Hello! 
The last time I checked in on this blog/news feed, it was to let you know about my new album, Chit-Chatting With Herbie. Since then, we played a raucously fun release show, the record has found its way into the hands of jazz fans and critics from around the globe, and 5 months have passed. There's no feeling quite like sending a copy of your own CD to a paying customer across the globe, or reading a positive review of your work in a magazine or website that you used to pore over daily. I've been extremely grateful to have experienced both of those feelings many times since the record came out.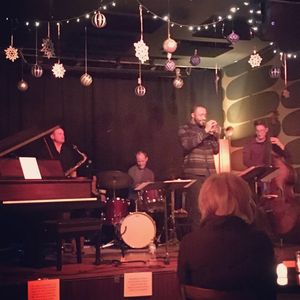 I'm excited to share with you some of the recent press the album received, but first, I'm excited to announce that we are finally playing some more shows in the next few months! We will play a mix of the Herbie Nichols music from the new album, old Many Blessings favorites, and some newly-composed tunes. Mark your calendars:
Below, click around to read some of the reviews of Chit-Chatting With Herbie. And if you still haven't picked up a copy of the CD, check it out here! And check out my extensive digital liner notes here.