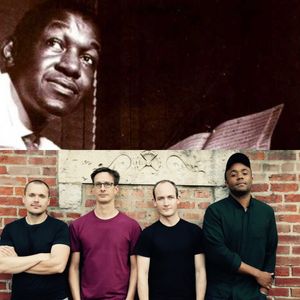 Top: Herbie Nichols; Bottom: Many Blessings
I'm very excited to announce that my jazz quartet, Many Blessings, will be releasing our new album, Chit-Chatting With Herbie, on January 3, 2019. The release date is the 100th birthday of Herbie Nichols, the under-appreciated jazz genius who we're celebrating with the album. We will have a release show and 100th birthday bash at the Hungry Brain in Chicago on January 10. It'll also feature a set by our fellow Herbie fan Paul Giallorenzo.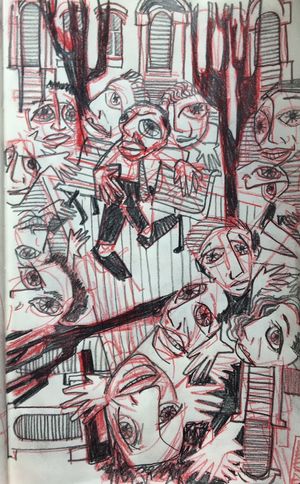 Original sketch of Herbie among revelers in his native Harlem, by Gary Lehman, who is designing the album's cover art
This album has been a long time coming -- I became a fan of Herbie's music some time around 2008, struck by its utterly unique perspective on the jazz tradition and its sense of experimentation, which was at once playful and intellectual. Naturally, I was also drawn in by Herbie's story -- a singular jazz genius who never gained more than a sliver of popular success and died, disillusioned, in 1963, only to gain a small but devoted and near-religious following many decades later. I remember having a long conversation with Ben Allison at the Green Mill in 2009 about our mutual love for Herbie. Ben is an integral part of the Herbie Nichols project, the high-water-mark of Herbie tribute ensembles -- the seeds of inspiration for my own tribute may have been planted back then.
I decided in 2016 to take on the task of re-arranging his entire 1956 album, "Herbie Nichols Trio," for my piano-less quartet (Herbie is a pianist). We performed the arrangements at a Jazz Record Art Collective concert, and it was too much fun to put the music away forever. So, earlier this year, I applied for and received a grant from the Luminarts Cultural Foundation to fund a recording of our Herbie arrangements (thanks Luminarts!) Somewhere in the process of preparing for the recording sessions, I realized that we could align the release of the record with Herbie's 100th Birthday on 1/3/2019, and I started getting even more excited about the project, digging deeper into Herbie's music and story. I just finished Mark Miller's excellent biography of Herbie and have been listening to all of his recordings nonstop. Now, to plan a deservedly raucous 100th birthday party!
Mark your calendars (release date 1/3/19 -- release show/party 1/10/19) and watch out for more good stuff -- preview tracks, artwork, digital liner notes -- soon! 
Peace, 
Lucas