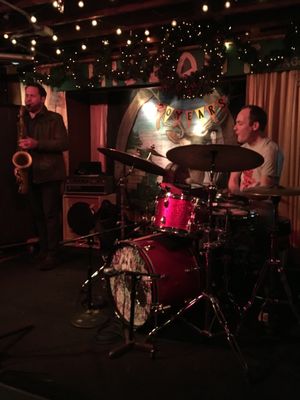 On Monday, June 5th, I'll be playing a duo set with saxophonist Hunter Diamond at Elastic Arts, as a part of their weekly Anagram Series. Hunter and I started getting together semi-regularly to play as a duo last Fall, and have really enjoyed the process of developing a musical chemistry purely through improvising. We played an improvised set at the Hideout in December (on Hunter's birthday!) and had a blast. Here's a very short clip from that gig:
Earlier this year, I tried my hand at composing a piece for the duo, and it was a challenging but fun experience. Check out the result below:
At Elastic on Monday, we'll play a mix of improvisations and composed music. I'm about to finish grad school, so I've been consumed by school-related concerts and final papers lately. I'm very excited to make some improvised music with Hunter Monday night. We play at 9PM, followed by Stevenson Valentor's Presence Quintet.