Welcome!
Thanks so much for taking the time to visit. A quick update on what I've been up to so far in the first month of 2014, and what I'll be doing in the coming months:
Intervarsity
I started off the new year by drumming and music-directing in the worship band for the Intervarsity Staff Conference in St. Louis. 
Intervarsity
 is a campus ministry that has had a huge impact on the lives of countless college students over the past century, and I was honored to be a part of their triennial staff conference -- it was a fun and surprisingly relaxing week of worship and fellowship.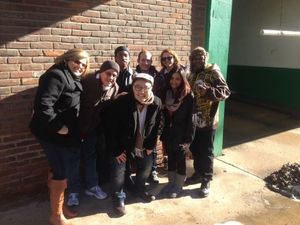 The team at Intervarsity Staff Conference
The Right Now
I've been playing a lot lately with excellent Chicago soul band 
The Right Now
. We rang in the new year by opening for the legendary
Bernie Worrell
at a free New Years Eve show at Reggie's in Chicago. Later in January, we took a trip to Cincinnati to play a couple of gigs and record a 7-inch single at the cozy confines of Colemine Records, an awesome funk/soul label in Middletown, OH. Listen to some of Colemine's other tasty releases on their 
YouTube Channel
. Here's some
behind-the-scenes Instagram footage
of the session! Coming up, I'll be doing some more recording and touring with TRN.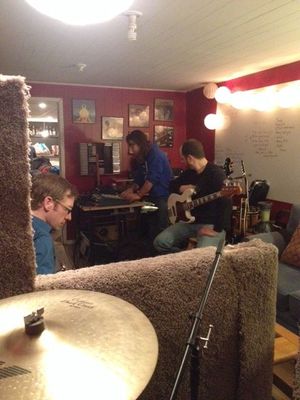 Tracking with The Right Now at Colemine Records
Hush Train
Most every Wednesday you can find me playing with a new soul/R&B cover band called
Hush Train
at the
Back Room
, a swanky joint in Chicago's Gold Coast neighborhood. Hush Train is sort of a spin-off of The Right Now, sharing some of the same members and repertoire, but focusing exclusively on playing covers -- everything from Stevie, Otis and Aretha to Rick James, Mary J., Cee Lo, and even some Zeppelin. It's a super-fun band, and we're getting better every week. Come out to the Back Room any Wednesday, or check us out at our new "Sinful Sundays" series, which happens the last Sunday of each month at the
Double Door
and features super-funky DJ sets by 
DJRC
.
Bonzie
I've also been staying busy with
Bonzie
, the project of 18-year-old singer-songwriter Nina Ferraro. I've been playing drums with Nina since she was 15 (!), and it's been amazing to see how far she's come since then. Not only did Bonzie release a full-length album in August (
Rift Into the Secret of Things
), but we've also been hitting the road, touring with
Ivan & Alyosha
 back in November and making it to Indianapolis for a show and video shoot in January. In March, we're doing a run of dates opening for
Cayucas
 right before heading down to Austin for
SXSW
. I'm super excited to finally experience for myself the phenomenon of South By Southwest, having spent way too many hours reading about other people's experiences there. We're already confirmed for 3 shows at the fest, including a
Chicago-centric showcase
headlined by Chance the Rapper.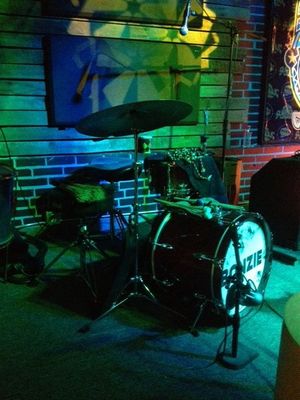 Jazz(?)
What about jazz, you ask? Well, my group
Many Blessings
, hasn't played together in a while, but that's about to change! We're set to play at Jerry's Sandwiches' Ears & Eyes music series on Tuesday, March 18th. We're going to be debuting some new music, too, so don't miss it. Also, I've played a few ridiculously fun gigs in January with a new group featuring guitarist Nate Baker and bassist Charlie Kirchen; we're planning on playing together much more this year. I'm also looking forward to June, when I'll be playing in the
Terry Bartolotta Group
at the Elkhart Jazz Festival in Elkhart, Indiana!
Teaching
On top of all this playing, I spend most of my days teaching other folks how to make music. Last summer, I was hired to teach piano, guitar and drums for
Piano Power
, a great company run by pianist, songwriter, funnyman and educator
Abraham Levitan
. I'm also very happy to be back at
Wheaton College
this semester, where I'm an adjunct faculty member, teaching jazz drum set to a talented and hardworking group of students.
As always, check out the 
Gigs page
 for details about where I'll be when, and come out to a show if you're so inclined. Have a great day now!