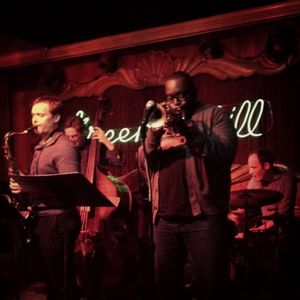 As I mentioned in the
last blog post
, I was looking forward to, among other things, playing with
Many Blessings
at the Chicago Jazz Composers Collective concert at the
Green Mill
 on Sunday, 4/27. Well, we played the gig, and we sure had fun. Marquis, Jim and Dan played amazingly, of course. I felt extremely grateful to everyone who showed up -- lots more folks than we expected.  
I play many different types of gigs as a working drummer in Chicago, but it's occasions like this that really put in to perspective why you pursue a life in music in the first place -- playing my own music with a group of great musicians for an appreciative audience in a historic jazz club. What more could a guy ask for?
The good news for you, if you weren't there, is that I have audio of the gig online for your streaming pleasure!
Click here
 to listen. Picture yourself sipping a beer at the Mill on a Sunday afternoon, and it'll feel just like you were there.